Events and Tickets
Join the biggest celebration of the Bear Community, coming out of hibernation, held in Brisbane, Queensland!
EVENT – Platinum Pass & Gold Pass
EVENTS – Thursday, October 18
Catch up with your mates, make a few new ones, and join us for the opening event of Northern Exposure. Meet great and eat includes a two course dinner upstairs at The Jubilee Hotel. Drinks packages will be available on the night.
EVENTS – Friday, October 19
Bear Foot Bowls
Join us from 12pm on Friday 19th October for a BBQ and Bearfoot bowls at Brisbane's iconic Merthyr Bowls Club.
Underbear Construction Party
9pm – late Sportsman Hotel, Bunker Bar, $30 (included in platinum and gold)
EVENTS – Saturday, October 20
Beer, Bears and Yoga
Time to work out those aches and pains after Underbear and get back in tune – we still have 2 days to go. Join our yoga bear Paul for some stretching, meditation and an icy cold beer.
Plumbers Pool Party
Spring Hill Baths, 14 Torrington Street, Spring Hill
1pm – 4pm Saturday 20th
$30 (included in platinum and gold packs)
Mr Bear Queensland
Sportsman Hotel, Bunker Bar, Doors open 9pm
Competition starts at 9:30pm sharp
EVENTS – Sunday, October 21
Bear Smoko
All you can eat yum cha
Tools Down Chill Out
Wrap up NEX with our famous chill-out at the Brunswick Hotel from 2pm
EVENT – DJ Profiles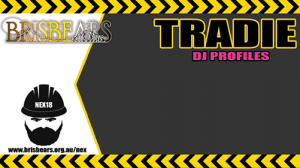 EVENT – Accommodation